Brunson Update, Biden Ukraine Lie, Trump Ohio Visit, and God's Kaboom!
February 21 2023
Trump Supporters Turn to 'Plan C' to Reinstate Him After Supreme Court Loss
Three brothers who support President Trump will use what they are calling a "plan C" to help reinstate him after the Supreme Court once refused to hear their case.
On Facebook today, Raland Brunson, a plaintiff who sought to overturn the 2020 presidential election and reinstate President Trump said the Supreme Court had once again rejected their effort to hear the case.
"[Second] Petition denied. Moving on to plan C. I will say more about that within the next few days. We have been working long and hard on these strategies and there are more to come. We understand this to be a possible long but worthy goal. The result is that everyone in this nation will have the peace of mind that comes from knowing that the candidate of their choice will be bound by their oath to protect the rights and freedom of the people they represent."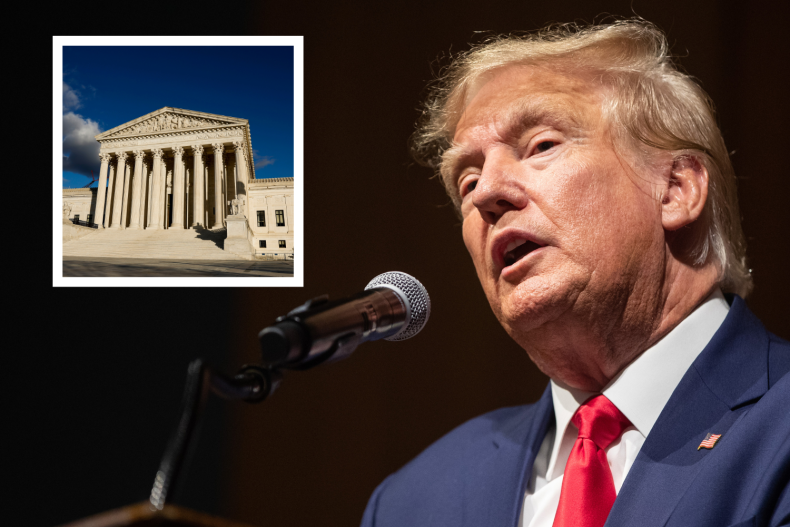 The case alleged that lawmakers violated their oaths of office when they failed to investigate foreign intervention in 2020's rigged race against President Trump. After initially being denied on January 9, the Brunson brothers appealed the Court's decision with the denial coming today.
Despite the news, Brunson is not giving up.
"I'm baffled with [the] fact that the opponents of this case are against the Oath of Office, which is the only instrument that protects the Constitution. It's obvious that those who fiercely object to this case would like to see the Constitution dismantled, torn apart, or altogether eliminated."
However, we know that God is on the Throne and ultimately ONLY God has the final say.
Shocking Reveal From God through 1776 Nation, and a Reminder "Don't Walk Away."
God spoke through Pastor Kent Christmas as he gave a reminder in His "24-Hour" message from 2/19/23 that a lot can happen in 24-hours. Prophet Laire Lightner shared Pastor Kent's CONFIRMING message with an 8-minute excerpt dated March 25, 2022. But that wasn't the only surprising upset of the day (and we're not even in March Madness so don't walk away). 
God said through Laire that "One day you will see the DS in charge the next you will see the military takeover. Don't expect 45 until Military is done." 
A commenter wrote: Lana Kuystermans
AUGUST 14 / 2022 ....GOD GAVE MY HUSBAND AN OPEN AWAKE VISION ...OF A LARGE TABLE OF EARTH AND ALL OF A SUDDEN IT ...FLIPPED FROM CHECKERBOARD BLACK AND WHITE TOP .. OVER ..AND IT WAS TOTALLY PURE WHITE ... AND THEN GOD IMPRESSIONED TO MY HUSBAND.. THAT THIS PURE WHITE CHANGE UP HAPPENS FROM 8 PM TO 8 AM THE NEXT DAY... PRAISE GOD ALMIGHTY ETERNAL SAVIOR JESUS CHRIST OF NAZARETH
Shortly after a minute into the message, Laire added the following message below which is confirmation as God said through us several times "Situations are about to change soon, about to change suddenly."
What's so powerful about that message from Laire is it ties in with what God said today about Derek's post from 1776 Nation. God said to add - even before we saw Derek's message, that there was a "Confirmation that might surprise you."
What Derek posted was a two-sentence post that read "I thought "Biden" was in Ukraine...? Today.... And here's AF1 just now crossing the Big Pond? #WakeyWakey."  A commenter added "And... if it was a secret last-minute visit, why were all the British press there to report on it?!" Hence, let's remember to not put on the fake news as God said. God already said there's a HIDDEN BODY in Washington D.C. and many are now realizing what we're seeing looks like a fake Biden actor (hence, Derek using quotes around the name). Is this the DS way of trying to run the country covertly?
Separately, God mentioned through us how He's giving the military a second chance and said through Diana Larkin on 2/21/23 that "I AM moving to RIP THE VEIL OF DECEPTION off the eyes of the police and army who have believed CORRUPT and LYING leaders, and they will begin to REFUSE ORDERS." Hence, as this "Biden" actor shows support for Ukraine (or his billions in reserves), recall that God mentioned through Diana Larkin on February 19, 2023, what God's about to do: 
"The darkness has GATHERED TOGETHER with all their EVIL SCHEMES into a DARK HIDEOUT where they think they are SAFE from EXPOSURE and in a position to LAUNCH all their DEADLY ATTACKS. As they look at each other in this dark place, they are SMIRKING in TRIUMPH over you and LAUGHING at your perceived WEAKNESS and HELPLESSNESS. In their ARROGANCE, they did not notice that I turned their SAFE PLACE into a HUGE FURNACE. "They will suddenly realize they are trapped when they hear the big kaboom of the furnace door shutting - right after I throw in my lit match. It will crash in upon them that they are the WEAK and HELPLESS ones."
Hence, let's remember that God said "Regardless of what you see, keep saying God is covering me. God is covering my family." Please don't focus on the spirit of offense (anger, bitterness, wrath, complaining) as it's quite obvious that they intentionally delayed in helping the innocent people that live in East Palestine, Ohio. But understand that this is a demonic, sabotaging attack to cause the spirit of offense to get into people so the devil can get in and God can't work. Let's rebuke them, forgive, and remain standing.
Let's continue to push back their dark schemes by decreeing and declaring that EVERY evil attack will blow up in THEIR own camp only and there shall NO EVIL befall us. Let's decree that God's truth make EVERY LYING LEVIATHAN be forced to tell the truth. Let's also reflect our Father God and show love and forgiveness so God can work through us and use us to minister to others despite them only now moving because President Trump is visiting East Palestine tomorrow.
We keep President Trump in our prayers and pray safe travels for him for his trip tomorrow but what a POWERFUL reminder from Father God that THEIR evil plans are exploding in their own camp, so for God's people, please hold on and "Don't walk away."