Presidential Announcement? UPDATED President Trump Speaks Nov. 15 at 9:00 pm EST
November 14 2022
President Trump is teasing that he's going to be making a big announcement tomorrow. 
"Two years ago we were a great nation, and we will be a great nation again. Not to detract from tomorrow's very important even critical election… I'm going to be making a very big announcement on Tuesday Nov. 15 at  Mar-a-Lago in Palm Beach." 
President Trump FAQ
When does President Trump speak next? President Trump speaks on Tuesday, November 15, 2022.
Where is President Trump speech taking place? President Trump will speak from Mar-a-Lago in Palm Beach, Florida.
What time is President Trump speaking? The livestream was updated to 9:00 pm EST and President Trump will give his announcement at 9:00 pm.
How can I watch President Trump's speech? Use the Rumble link to watch President Trump speak. Or copy and paste this link in your browser: https://rumble.com/v1udtj8-live-president-donald-j.-trump-holds-special-announcement-at-the-mar-a-lago.html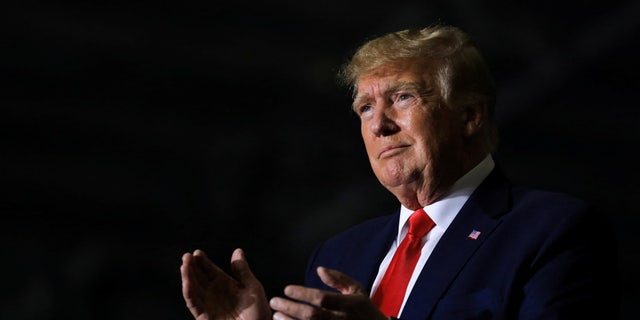 Trump hinted a few times over the past year that he is interested in a third White House run. While some Republicans wanted President Trump to wait until at least after the midterms are finalized, America is eagerly awaiting news from the president.  
As President Trump shared, "I ran twice; I won twice, and I did much better the second time than I did the first, getting millions and millions more votes in 2020 than we got in 2016 – and likewise getting more votes than any sitting president in the history of our country."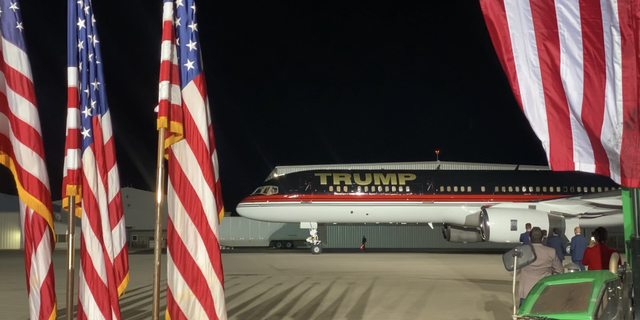 Turning his attention to the shocking GOP upsets, a lot of Trump supporters were expecting a MASSIVE red wave or the HUGE red tsunami the news boasted about. However, prophets like Veronika West preempted the midterms as God said through her "America! Do not look to your midterms! For a Knight in Shining Armour shall ride into your darkness carrying My Light!"
For those that didn't see her prophetic message, God is saying "Don't worry" and He wants us CELEBRATING in advance! As Veronika posted on 11/10/22, "GOD WILL HAVE THE LAST SAY!!!" 
Her full message is listed below. 
"America! Do not look to your midterms! For a Knight in Shining Armour shall ride into your darkness carrying My Light!"
America! Turn your eyes upon Jesus, and you shall be saved!
I say to you again, there is a Ram in the Plan! Yes! I have made provision for you on Mount Moriah, for I AM The God of Abraham, Issac and Jacob.
Listen! For I have given you a trumpet that will sound, the Sound of Distinction, for the sound of great Victory and Deliverance will be heard!
I say Watch! For in the night, I have given you a Knight. Yes! A Knight in Shining Armour that shall ride into the darkness.
Yes! A Knight carrying The Light and The Power of My Glory, that shall break the stranglehold of the enemy that has sought to keep you blind, shackled and bound!
I say America! Walk in The Fear The LORD and you shall be break free!"
"The Party Games and The Checkmate!"
A crisis. A rising Remnant and Nations coming into perfect alignment with God's End-time Kingdom Assignment. But Watch! As the Party Games will now begin!
So, in the very early hours of this morning I was woken up a little after 2:00 am with an urgency to pray for The Nations.
As soon as I began to cry out to The LORD, I heard The Spirit speak a very strange and peculiar Word to me, and I heard these Words:
"Watch! For in the midst of this political crisis My righteous Remnant rises, and Nations come into perfect alignment with My End-time Kingdom Assignment.
But Watch and pay close attention! As the 'Party Games' will now begin.
First comes 'Musical Chairs', where one will be out and one chair will be removed.
But see! For who will be 'the last man standing', when the music finally stops?
Look! Like the blind leading the blind, round and round they shall go, as a game of 'Pin the Tail on the Donkey' begins.
Then comes 'Hide and Seek' and a countdown from ten (10) will send them running, like a cat set among the pigeons they will scatter.
To and fro they will run, desperately looking for a place to hide! Ha! But listen!
For the sound of music will be heard once again, and sitting in a circle, 'Pass the Parcel' will begin.
But Watch! As a divine unraveling and an uncovering of what has been hidden and concealed is fully exposed and revealed, as layer by layer, the party wrapping is removed.
I say look, and look again, for a game of 'Charades' will commence that will leave everyone guessing, as smoke rises and their 'magic mirrors' are strategically set in place.
But Watch! Then comes 'Snap', as the pieces are moved in and out of place and their 'Jenga Tower' begins to wobble.
Suddenly a loud crash will be heard that will Shake! Shake! Shake the parties, as stocks and shares begin to plummet and, like 'fireworks on the 4th of July', sparks will fly.
And with a full 'stacked deck of cards', 'Bingo!' they will shout!
But nay! Nay I say! For a game of 'Chess' has always been in play, with Kings and Queens, and Pawns in place.
But Watch! As the Bishop will move into place and a Knight in shinning armour, will arise and ride in!
I say, "Checkmate!" I win, and the Party Games are over!"
Blessings to you all.
~ by Veronika West
Among the potential topics tomorrow, the president's talking points continue to include inflation, crime, and immigration. 
"Inflation should have never happened. Forget about buying a turkey for Thanksgiving. Has anybody bought a turkey yet for Thanksgiving? Because if you haven't, don't even waste your time. Number one, you probably won't get it. And if you do, you're going to pay approximately three times more than you did. Under the radical left Democrats, the streets of our cities are ruled by bloodthirsty gangs and violent criminals. Instead of doubling the number of IRS agents, we should double the number of ICE and Border Patrol agents," stated the president.
Heavily involved in the midterms and lending support to Republican candidates across the nation, the prmiaries were a shocking upset if one looked on the surface level.
With the Democrats holding the Senate and the House up for grabs, the concern is what went on behind the scenes that would lead to sweeping Democratic wins. Meant to make the president look like his endorsements were not worthwhile, the fake news was quick to state that Republicans now want to part ways with Trump, which Chiristan Trump supporters know is clearly not true. Christians are also not drinking the same Kool-Aid circling the fake news media and biased left.  
As the American people await word from President Trump, recall that he is now suing the Jan. 6 committee and likely will not have to testify in the coming weeks. The president also filed suit against New York Attorney General Letitia James. What's more, the president mentions in some of his rally messages that every attack of the enemy has been defeated. Consider impeachment hoax number one, impeachment hoax number two, and the various criminal and civil investigations. At one point God said "The lawsuit is dropped" and "THEIR charges will be overturned." 
As President Trump noted, "This is the year we're going to take back the House. We're going to take back the Senate. And we're going to take back America. And in 2024, most importantly, we are going to take back our magnificent White House." 
However, in the interim, I heard God say, "I want you to talk about them being rude." One of the most concerning things about the election is that it's full of false pride and lies. THEY'RE making celebratory speeches over manipulation and THINK they've successfully stopped God and President Trump. But He who sits in the Heavens laughs.
So let's go over a few things Father God said through us about the election over the past couple of days:
On 11/6, Father God said at 6:01 am,

 

"Someone is going to say a tie. A revote is called again. Explosion on the news."

 

"Tell them they will have evidence."
On 11/7 I heard

 

"God will show you proof."

 

At 1:37 pm He said,

 

"God's sudden judgment is coming soon."

 

Then, at 1:49 pm, God said

 

"He will act suddenly and all at once." And at 10:32 pm, I heard

 

"Let them know THEIR number is up."

 

Father God has said this before in referencing the witches and demons trying to come against God. 
On 11/6 God also said,

 

"When you try to carry out a coup against a king I have established, you are trying to carry a coup against Me." "God's restoring President Trump back to a position of power."

 

Hence, we must still do our parts and tear down their carnal strongholds.   
Now, this part might be a little startling but I hear God saying "Don't walk away," as a very interesting aspect is the DeSantis win. And a lot of people are not aware that there are witches and demons manipulating the weather. Consider how Florida was SUDDENLY hit with a second storm that LOOKS LIKE it came out of nowhere in the shape of a sickle and is aimed at Florida.
God said through Donna Rigney that THEY'RE boasting about changing the weather and sending that LAST attack to Florida. Directly after Hurricane Ian, Biden raced there for the press conference and afterward said "You don't f*** with the Bidens or "a Biden." So God SEES all this, but God is about to uproot all THEIR plans. 
And this may be the key area where God will BLINDSIDE them. God said directly after the November 2020 election that "We're going to share a good laugh together." A few months later, a Facebook commenter reached out to us and shared that God said He's been setting the enemy up this entire time to make it LOOK LIKE they won and at the right moment God will expose them.
Factor that information in with God saying a few weeks ago in the prophetic "Smile, you're on camera," and the revelations keep coming! Is God saying that all of THEIR actions were recorded? With all kinds of charges of treason, collusion, and corruption,  read through our recent messages from the past few days. Refer to Diana Larkin's recent messages where God mentions treason. Add to that Veronika West's message and it makes sense.
In another prophetic word, THEY ALSO had an attack planned against President Trump but that's foiled, and God said people will rally around him, so don't worry, worship. Tomorrow's news will be interesting. Will the president discount turkeys? Possibly. Will he pardon several turkeys that were secretly coming against him in a coup? Not likely.
As we close, I also hear "Watch and see what God says," Watch and see what President Trump says," and "Explosion on the news." Well gobble, gobble.
Below are a few recent messages from God through Diana Larkin.