Come On, Get Happy: Random Acts of Kindness & Charitable Giving
God loveth a cheerful giver (and, so do we). It touches our lives and pulls at our heartstrings to hear about kind acts or people going the extra mile to help others. Here are a few stories to brighten your day. Let your light so shine before men, that they may see your good works, and glorify your Father which is in heaven, (Matthew 5:16). Keep your lights on! 
Nine-Year-Old Pays Off Other Students Lunch Debts
Story shared via ABC News: NAPA, Calif. -- A 9-year-old boy is making a difference for his peers in Napa, California. Cooking and mealtime are important parts of the Kirkpatrick family's day. So when Ryan had a conversation with his mom about kids who couldn't afford school lunches, he decided to do something about it.

He asked his mom to find out how much fellow third-graders at West Park Elementary School owed. Kylie Kirkpatrick said, "It was I think $74.50. So I took that email and came to Ryan and said, 'What do you want to do,' and he said, 'I guess I can pay for it.' I said, 'are you sure?' And he said, 'yes.'" He used his allowance money, which he would normally use to buy sports gear, and gave it all to the school.

Depending on income levels, elementary school meals range in price from 30 cents to $3.25 each. Still district policy says, "Students with a negative lunch account will still receive a hot meal." Ryan anonymously paid for the outstanding debts. He said, "I want them to realize people actually think about them because you're just bragging about stuff. I want them to feel happy someone cares about them."
Newark Principal Who Installed Student Laundry Gets Surprise Gift From Oprah for Class
Story shared via ABC News: NEWARK, New Jersey (WABC) -- Oprah Winfrey surprised a high school principal in Newark that is making a huge difference in his community. Winfrey surprised West Side High School's Principal Akbar Cook on Friday night and donated half a million dollars to help keep his Lights On program running.

The program is designed to keep students off the street by giving them a safe place to hang out on Friday nights. Until 11 p.m. each Friday, kids can shoot pool, play video games, hit the hardwood, practice cheers or even lay down tracks in a recording studio. "I haven't lost any more kids to gun violence since the start of the school year," Principal Akbar Cook said in April. He says the results can't be ignored.

Cook also made headlines last summer when he installed a laundry room after his students were bullied because of dirty clothes which resulted in chronic absenteeism. He says there has been a 10 percent increase in daily attendance since he opened the laundry room. Cook's Lights On program will also run three nights a week in the summer.
Entire School Learns Sign Language to Welcome New Student
Sign language posters now line the walls of hallways, and students have learned how to sign more than 20 words including colors, letters and words related to school. "Morey -- without even knowing it -- has taught us so much," said school Principal Kimberly Sampietro. "She has brought a culture to our building that we didn't have before."
The school installed a hearing assistive system and implemented extra teacher training to incorporate sign language into every classroom, including core subjects, music and computer class. Sampietro said many teachers also began using their free time to watch sign language videos and read books on special education.
Morey's mom, Shannon Belanger, said her family has been blown away by how supportive the school has been. "I absolutely feel like it makes her feel welcomed," Belanger said. "I think all the kids feel excited that they know another language and I think they think it's fun." To celebrate the students' hard work, the school invited a real-life princess who knows sign language to come speak to students this week.
"We wanted to show our students that this isn't something they can only speak with Morey," said Principal Sampietro, who said most students in their rural Maine school have not encountered many people with hearing impairment. "We wanted to show them that signing happens in all kinds of settings." Morey's mom said she loves art and performing. So when Cinderella came to sing to the entire elementary, she helped with the singing and the signing, of course.
Team Surprises 76-Year-Old Volleyball Referee With New Car
A beloved volleyball referee cried happy tears as a group 10 teams and their families surprised him with a car. Lemuel Buster, a ref at Paulding County Parks and Recreation Department in Paulding County, Georgia, walked out of the gym earlier this month and was met with a crowd of cheering community members.
"You guys are very important to me," Buster can be heard saying in a video after accepting the generous gift. "Thank you." Buster, a grandfather and veteran who played volleyball himself in the Navy, has been refereeing at the recreation department since it opened last year. But after 76-year-old's car broke down, he was renting one to ensure he'd never miss a game.
"He's a good man," said Leslie Ashworth, a mom of two whose 13-year-old plays on a team reffed by Buster. "He cares about the girls. He asks my daughter, 'Hey, did your serve get better?' He pays attention and actually enjoys it." Ashworth told "GMA" that Buster had informed her that his car died. Since it couldn't be repaired, he rented a car to get back and forth to games.
Ashworth and the Paulding County community members began collecting donations. One of the fathers who owns a used car lot donated a Chyrysler Sebring convertible to be gifted to Buster. Minor fixes were made to the vehicle so Buster wouldn't have anything to worry about.
"We wanted to make sure he was taken care of," Ashworth said. In early May, after a game in Mount Taber Park, team members and their families surprised Buster with the car and $2,000 in gift card donations.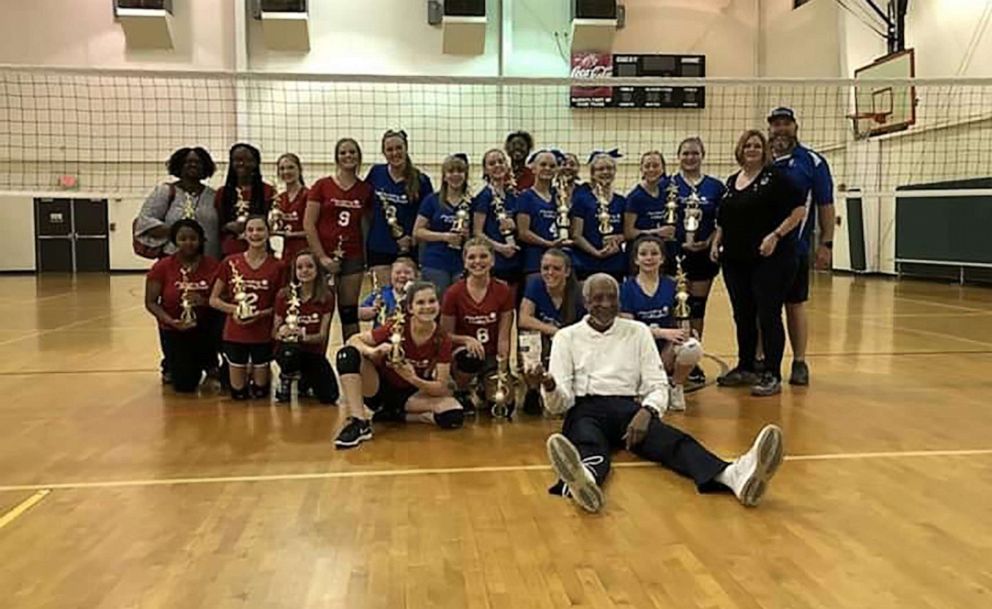 "He was just blown away," Ashworth said. "He cried, we all cried." "The whole experience," Buster told "GMA," "is a blessing, and I am very thankful and humble."