February Newsletter...
Our February Newsletter
While we don't usually post our Newsletter this early, the Holy Spirit gave a special word below Our February Prayer that He stressed should be posted urgently, so we're sharing it now. Please share it with your church and pastor... 
Happy February and Happy Valentine's Day from God-Driven-Designs! We're turning our attention this month to minimizing and rebuking distractions so we can press forward in alignment with God!   
In this month's issue we cover:
Our February Message: Focus on Forward and Our February Prayer
Black History Month: Because of Them We Can
Super Bowl LII: Best Apps, Food, and Game Day Safety With Flu Season Tips
Music Spotlight: Jasmine Murray: Fearless; 7eventh Time Down: God is on the Move
Movies Coming Soon: New Christian Movies
Need an Uplifting Word? Pastor Joel Osteen: It's Your Time (Due Season)
News: Boy Delivers Solar Lights to Those in Puerto Rico
Our Latest Book: Pray It By Ear
Valentine's Day: Cards and Gifts
LOL: 15 Worst Valentine's Day Gifts
And away we go...
Focus on Forward...
God will make the way for you
Quick question for you... When you read the Bible story about the lame man who couldn't get to the well for 38 years, did you wonder why he never asked anyone to lower him so he would be positioned first at the well? I've read that story so many times and I understand he was left "at the gate" but couldn't understand why he never said, "Hey, can you hang on a few minutes and actually lower me here?" Bishop TD Jakes even mentioned once that in 38-years, he could have gotten a little closer to the well. So what happened?
I think I know...
A while back I was bitter. Really bitter. Life dealt me cards I hadn't expected. It can happen to anyone. I was going through a huge test and people closest to me attacked me. I felt betrayed but realized that if God sent them and allowed the attack, He was using my pain and tears for a purpose. The problem was, like Beth Moore's book title, I needed to Get Out of That Pit. For me, it was a pit-ty party. I kept replaying tapes in my mind about what this person said and what that person did like the lame man who told Jesus, "Every time I try..." How many times have we said that one?
In understanding the lame man and why he couldn't move, it reminds me of what the Holy Spirit said about Puerto Rico last month in our prayer for Puerto Rico. The Holy Spirit said to pray over vision and I understand why. They were just rejected by FEMA and additional aid will be cut off, but remember the Word says, Without the vision, the people perish from lack of knowledge. I've prayed so many times that Puerto Rico sign our petition, fight for their rights, and fight to stay on their land, but they have to see it. They have to say, "Why sit we here lest we die?" and do something about it nationally.
So with the lame man, I understood what I was doing wrong. What Puerto Rico is doing wrong. What we all sometimes do wrong. We focus so much on the pain, hurt, and betrayal by what "they" did to us that we don't see that we as individuals have to step over the "they" and ask, "What am I doing for myself?" How am I focusing on forward each day? How am I getting into position for what God has for me? When God says He's releasing a blessing, am I running down the field with my arms open ready to receive it or have I sulked on the sidelines with bitterness eating at me as I reflect on the hurt for not being chosen? That's where you have to dig in deep and say, "I am chosen."
You see, God changes not, so when He sends the blessing in seed form usually, you have to be there and be ready to receive. At the same time, you have to run down that field and be ready to receive what God has. It will take work because to whom much is given, much is required, but know that if God calls us blessed and we are His chosen, we have everything in us, i.e., God's authority, to stand and speak and make manifest what we need. So do it. Believe that you have it and let God show you that His Word works. 
Why You Need to Push a Little Forward
When God removes people out of your life or has you down to your last, the flesh has a propensity to kick in and say "Whoa!" because of the cortisol that's released with adrenaline. It's an emotional response that triggers a "fight or flight" response. Psychologists say that some stress is good, too much is bad because it can cause health problems. When God exposes us to stress, like that bill that's overdue, that mortgage that needs to be paid, that spouse that walked out, sometimes it's to help us kick in our "fight" response so we don't let the "flight" response kick in and run in fear. Like the Bible verse, "having done all to stand, stand..." We as Christians have God's authority in us, but we have to exercise our faith. Yesterday when I reread a passage in Luke where the disciples didn't have enough food to feed the crowds, Jesus didn't say, "Order Amazon Fresh," but he said, "Feed them." He took the food, blessed it and it became more than enough. He wants us to exercise our faith as we focus on forward and make manifest what we need. So how do you do that to get what you need?
First, know that your help comes from the Lord. So you're not alone and God is with you helping you to grow in your gifts.
Next up, speak over yourself in the Lord and encourage yourself. Instead of looking around at whose not there, recognize that everyone and everything you need is right there with you, i.e., God, Jesus, the Holy Spirit, and lots of warring and ministering angels.
Then, speak into your situation. Speak over your finances. Decree and declare a thing. Ask God to open the windows of heaven. Ask for your supply house to be open. Open your wallet, hold it up to heaven and ask God to bless you indeed and bring restoration. Decree that you are healed. Speak that wealth and riches are in your house. Get into an attitude that you are the head, lender, and above. 
We're in a season where our words will become manifest and hear me clearly when I say this and receive it in your spirit deeply: The devil is dead and defeated. You are the light of this world and God will use you for His purpose. He will open windows. He will get you out of tight places. When you have nothing and it looks like there is nothing and no one to work it out for you or help you, God is showing you that He's there and closest to you. I can't stress it enough:
When you are down to your last or at your last, I pray you see that epiphany and that you receive it. The last of you, (your flesh, your finances/money, your friends and family influence), is not the last of God. Bind every hindrance and stumbling block away from you and see the windows God provides. The devil wanted you defeated. He wanted you to give up and die or grow so bitter you'd block your blessings. Rebuke satan and guard your heart, your mind and watch your tongue. God is knocking at your door and saying "Let me show you how I can work through you even when it looks like there's nothing." He is working miracles in this season. Water is coming out of the rocks. He is making manifest the dreams, visions, and goals that we have. He is defining our purpose. Push forward in seeing God as the supernatural that WILL bring it to pass.
The world is making a huge mistake because they get to their last and give up and kill themselves in frustration. God wants you to see that you have to come away from the world, the crowds, and that mindset. You have to trust God so much that when you are at your last, you say, "Okay, Lord. Show me who you are." Stand back and be amazed. God is equipping and arming His servants with strength for the battle. Let Him take you to that place of "being at your last" or "at the end of the rope" so He can show you who He is and how He will work it out. It is only a test to take you down to nothing so God can show you how the water changes to wine or how the bread, fish, and oil are multiplied. You have the gifts in you to bring out the miracles you need in your life.
Focus on forward. Speak what you need and keep moving forward. God isn't going to leave you there sitting at the gate watching everyone else getting healed. He wants you to fight for yourself. Stand up in your spirit, yell out and say, "I'm next! Heal me. I receive my healing! I'm here, too! It's been too long. I've wasted too much time. I'm sorry I ever doubted or was bitter. I rebuke the pain and the roots of bitterness, depression, anger, and resentment. Hear me, Lord. Heal me, Jesus. I rebuke this pain. I want to live and not die. I want my healing and my breakthrough. I'm ready. Pick me. Help me. Don't leave me. I'm ready now. I won't waste it this time. I won't squander it with false pride. Angels, help me get there. See me, pick me and bless me, too." Run down that field and say "I'm open! Pass the ball to me!" Be ready to receive. Keep believing the possibilities. Keep speaking what you need. Shout it, speak it, yell it, receive it, and ask God to confirm it and open every window and door you need. God will reveal it to you. You are covered in the name and blood of Jesus. God has the final say, so never give up but wait on God to show up and show out in your life. He will always make the way! 
Music Spotlight
Have you heard Jasmine Murray's song, "Fearless"? It's a reminder of who we are in Christ. Speak over yourself and stay encouraged. Watch the video here...
Our February Prayer...
Father God in the name of Jesus, Lord we come to you and we give you glory, honor, and praise. You are the Most High God and you are worthy of our praise. Lord, thank you for your love. Thank you for being with us, helping us, and guiding us along the way. Thank you for all that you provide. Lord, there are so many that are in need of a sign from you and they need help and deliverance. There are some that need healing in their bodies, healing in their minds, and we ask for your mercy. I hear you saying for your people the Body of Christ to move forward and not give up and to look for a move from you swiftly. You are telling your people don't give up and to cheer up and believe the possibilities. For some, you are saying to walk away from situations they are in where there is fighting and violence. We pray for peace in their situations, Lord. I hear you saying it's going to get better. Thank you for your love and for speaking to us.
Lord, we ask for guidance as you help us to push forward and focus on forward. This was the message you gave last month in the Prayer for Puerto Rico about not losing vision. I also hear you saying that you want your people every person to "Believe in yourself". Father, we know there are so many that are tired, spent, with no energy from the battles they just went through. Father God I pray, Lord, please move on their behalves. We know the battle is not ours. Please send warring angels to defend them and ministering angels to bring them comfort. I hear you saying it's going to get better and it's break time. We pray for those that have been under harsh spiritual attack. The devil wanted them to kill themselves, but we know the devil is a liar and we cancel the devil's assignment, in Jesus's name. No harm shall come to us and no evil shall befall us. Lord, you have a hedge of protection around us and satan and all his demons are defeated. We're going into a season where our gifts are becoming more manifest and the devil is angry because nothing he's done or will ever do will ever stop your plans for our lives! We give you the glory, Lord and we're excited because we know this is our chosen time. Thank you for strengthening us during the battle. Thank you for the time to take a break, go see a movie. Show us the way, Lord, and we praise you, love you, and thank you for you know all things and do all things, in Jesus's name, Amen. 
Anything in bold above is something the Holy Spirit may have mentioned or revealed in a dream to pray about.
The Holy Spirit said to tell you right away:
Be strong. It will get better. Believe what God has for you. Remember, there's a hedge of protection all around you. Trust God and believe. He will always make the way for you. Keep reading your Bible, pray, and ask for God's mercy, and know that good things are coming to you. It's at your door. Stay in His shadow. There's a noisome pestilence around you - don't worry about the noise. That's about to be removed. The devil is trying to tell you it's over, but it's not over. It's not over. They're deliberately attacking your character, but God is sending angels to you. It's a deliberate attack, but we rebuke and cancel every attack and warring angels are armed and on assignment for you. Listen to me. Keep praising God and reading your Bible. Be ready to receive what God has for you. You're walking into promotion and God will deliver you. It's deliberate what the enemy is trying to do, but God has you! He has you. Anything that was holding you back, let that go. God will deliver you Himself. Hallelujah! He's going to show up and show out for you. Have faith. He's on His way. He will deliver you Himself. He'll show you proof. Just have a heart of thanksgiving He's going to show you the way. Glory to your name, Lord! We rebuke false pride, demonic attacks, and we rebuke attacks from the enemy in terms of emergencies or sudden heart attacks and falls. He is a Merciful God. He will deliver us!
The Prayer of Salvation
If you haven't said the Prayer of Salvation, now's the best time: Father God in the name of Jesus, Lord, I ask forgiveness of my sins. Please come into my heart. I turn my back on sin and I make you my Lord and Savior. I want to follow you for the rest of my life. Please give me eternal life through you in Jesus name, Amen.     
Re-dedication to Christ Prayer
If you need to rededicate your life to Christ because you feel like you've been sinning or haven't been living right, pray: Father God in the name of Jesus, I ask forgiveness of my sins and I turn my back on sin. Please help me to overcome ---- and I want to lead a better life through you. I decree and declare this day I have overcome ---- and I have the victory in Jesus name, Amen. 
Stay in God's shadow, stay away from sin and temptation, keep reading your Bible and keep seeking God first. 
Be ye doers of the Word... We pray this message blesses you today!
Music Spotlight
Have you heard 7eventh Time Down? Love their inspiring song, "God is on the Move"! Click the image or link here...
Black History Month: Because of Them We Can
Sharing the Images of Eunique Jones Photography
Need a Word? Pastor Joel Osteen: It's Your Time (Due Season)
You're tired. It's been a long journey with many battles. The good news is this is your time you and are entering into a due season.  Hear this inspiring Word...
News: Teen Delivers Hundreds of Solar Lamps in Puerto Rico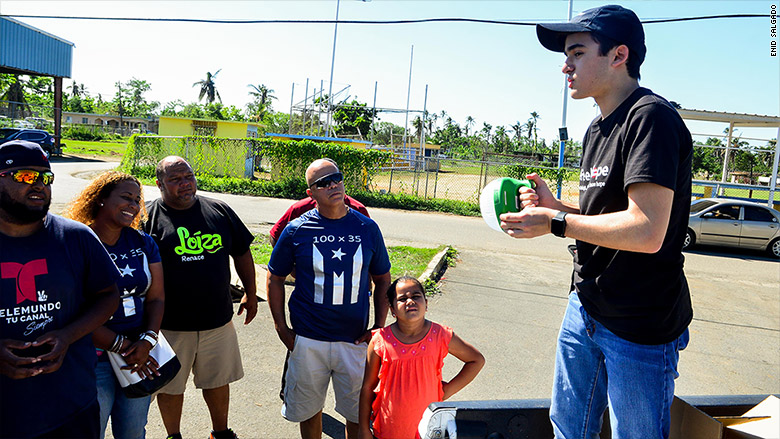 SHARED VIA CNN NEWS: More than four months after Hurricane Maria ravaged Puerto Rico, 15-year-old Salvador Gomez Colon is shocked by the poor living conditions that persist in many of the towns throughout the island.
"There is so much need," said Gomez Colon. "People are still shoveling debris around their homes. With no power, the elderly are struggling with the heat."
Nearly half a million of Puerto Rico's residents still don't have power. Families are living in houses with makeshift roofs made out of tarps and other materials and roads and bridges remain badly damaged.
"The farther you go from the metro areas is where you really see it," said Gomez Colon, who lives with his family in San Juan.
Just days after Maria slammed Puerto Rico, the ninth grader launched a crowdfunding campaign on fundraising platform Generosity. His goal: to raise $100,000 and use the money to buy portable lamps and hand-operated washing machines for residents in the hardest hit parts of Puerto Rico.
Since that time, Gomez Colon has raised more than $125,000 and has donated 1,400 solar lamps to some 840 households. He has another 1,600 lamps that he hopes to distribute soon.
With the help of his family, friends and other volunteers, Gomez Colon started distributing the solar lamps last November through his initiative C+Feel = Hope.
"When we went to the first town that has no power, people from other towns would hear what we were doing. So we would add that town to our list for our next distribution," he said.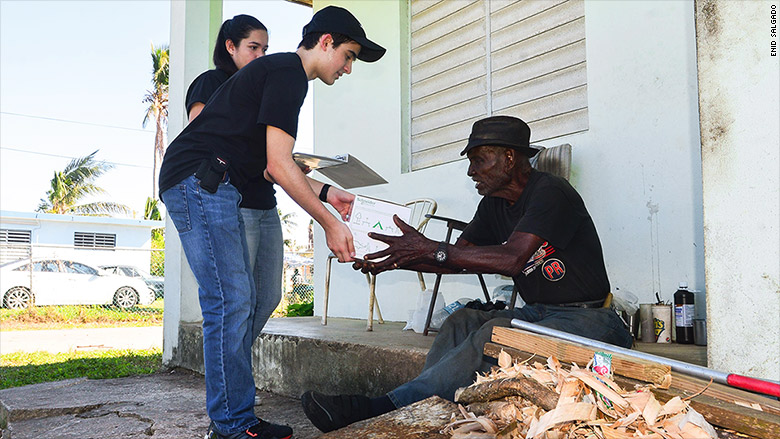 The teenager visits these communities on the weekends. He's seen schoolkids studying in the hot sun, rushing to finish their homework before the daylight disappears.
In one town, Gomez Colon met a young woman sitting outside reading Homer's Illiad. "She told me she couldn't read at night because there's no light," he said.
So he handed her a portable solar lamp.
"I told her she didn't have to worry about rushing through the book in the heat," he said. "For the first time in three months, she was going to be able to read it at night."
CNNMoney first interviewed Gomez Colon in the immediate aftermath of Hurricane Maria in September. At the time, he was hunkered down with his family in their San Juan apartment. The family was rationing the food and water they had stored before the storm hit. Still, the teenager knew he was better off than many others on the island.
With his mother's help, he sought a nonprofit organization to partner with and launched his online campaign.
As the money came in, Gomez Colon contacted makers of portable solar lamps and washing machines. To date, he's secured close to 300 hand-powered washing machines from companies like Gentlewasher and EasyGo and more than 3,000 lamps -- including some that have mobile phone charging capabilities -- from Mpowerd, Schneider Electric, and Omnivoltaic Energy Solutions, among other companies.
We hope you enjoyed our February Newsletter. Stay focused and remember to believe in yourself! For our full newsletter, use the sign up below...