June Newsletter: What in the World is Going On? Fear Not...
Our June Newsletter
Happy June, Happy Father's Day, Happy Graduation to all the Grads, and Happy Summer! 
This month is very special. We're seeing Father God setting fire to this world - in more ways than one, but He's also saying "Fear Not". He's up to something that He will reveal in tongues. The Holy Spirit gave us a sudden message in the middle of our Faith and the Family message which you can find below.
In This Month's Issue We Cover:
Our June Message: What in the World is Going On? Fear Not, Our Father's Day Message: Celebrating Faith and the Family, Why You Need Bricks, Not Sand, and Our June Prayer
Music Spotlight: Pat Barrett: The Way (New Horizon), Trey McLaughlin: Open the Eyes of My Heart
June Spotlight: Best Father's Day Gifts and Ideas
Need an Uplifting Word? Pastor Robert Clancy: Deliverance Prayer from Strongmen in Grouping
News: Soldiers Hold Fallen Soldier's Baby; Pizza Delivery Man Facing Deportation Draws Stay, Support of Leaders
LOL: Nobody Puts Baby in a Corner
Get ready. We're doing this...
What in the World is Going On? Fear Not...
A few days ago, the Holy Spirit woke me up with the urgent message that "Father God is up to something" and "will reveal it to us in tongues." The Holy Spirit keeps stressing this message and the sense of urgency to post this now.
We pray, Father God in the name of Jesus, Lord, please help us to humbly and clearly hear from you, not our flesh or will, but your voice and your will, Father God, and your word, for your people. Holy Spirit fall fresh on us that we can hear clearly and you can reveal that which the Father has for us, in Jesus's name, Amen.
The Holy Spirit is saying "Father God will reveal it very soon." It's a very powerful message. He will reveal it soon in tongues. Because this is a message that Father God is revealing, we will leave it with Father God to reveal.
***The Word we received from Father God came today and you can find it under "Celebrating Faith and the Family".
Have you heard Trey McLaughlin's live version of Open the Eyes of My Heart, Lord? Awesomest version ever. God bless these gifted singers and musicians. Lord, help us to see as you see and believe as you believe. Increase our faith, Lord! 
I remember like it was yesterday. I think we were in Florida when I was talking to a Spanish delivery driver about his family and the immigration debacle that's gripping our nation. I could feel the Holy Spirit telling me to say something encouraging as the man mentioned immigration and all the families being separated. Through a choked up voice, the man said: "Take me but don't touch my kids." I saw the pain in his eyes as he grabbed his heart as if he was saying "Shoot me, not them", but I stopped him. "You're not getting it," I said as I stopped him. "You're such a good father that you would lay down your life to protect your kids, but God wants you protected, too. We have a good Father in God and Jesus laid His life down for all of us. Jesus was the sacrifice because you're one of God's kids, too, and should be protected, too, so no, you don't have to make that sacrifice. Jesus already did it." 
What God Revealed In This Message
In celebrating faith and the family, it poses a strange question: How can we celebrate when so many families are being ripped apart? We're setting up cookouts for Sunday and shopping for dads when families are being separated at the border. We're buying ties and sharing grilling recipes when people in Puerto Rico have been sitting under a tarp for 8-months. But here's the point.------- Just as I was writing this, I got caught in the Spirit and tongues and the Holy Spirit said, "He's seen the injustices and He's coming to judge the world. Keep offering up the sacrifice of praise to God. Keep singing to Him. Keep turning the TV off and reading your Bibles. Know that the devil is defeated in your lives. You shall recover. You are covered. He's a God of second chances and third chances. He's covering you. Keep on believing. Keep on praising. You shall have victory! We will be singing and shouting victory this year. This year." He keeps saying this year. "The quaking that's coming it's God coming to judge the earth. These are birthing pangs. Judgment is coming. I'm opening up the whole earth." He keeps saying regarding the shouting victory that it will be, "This year, this year."  The Holy Spirit is stressing that I clarify that the earthquakes right now are birthing pangs of the end times and judgment that's to come.
For families everywhere, please stay encouraged. The Holy Spirit has been saying since January that this year, we would be shouting victory. Remember, God never allows or permits anything unless it works in our favor. Keep trusting God and don't give up. Even if you are displaced from family, know it's only temporary. You will be reunited. Even if you lost your home in a storm, quake, fire or with one of the volcanoes, know that you can rebuild. God works all things in our favor and victory is coming. The Holy Spirit is saying, "It's coming, it's coming." I hear him saying, "I know you are scared," but remember that you can trust God. We ask for your mercy Lord. Please be with all families, those displaced, those without homes, those struggling with finances. Know that we serve a merciful God who is with us. "He sees that you are scared", but you don't have to be. God is with you and angels are with you. The Lord will make the way. Now you have to be strong and trust God. Hold Him to His word. Look for the  signs He sends and wait on Him. God will never put more on you than you can bear. Trust God, don't give up, and wait and see what He does.
We pray for everyone this Father's Day. We pray for all those that lost a parent, those that lost a spouse, those that have been separated, widowed, or divorced. We pray for those that have a parent or spouse in the hospital, in hospice or a nursing home, in prison, away in the military, or in another country. We are praying for you. The quaking is the birthing pangs of judgment to come to this world, but please know that God is with you and never give up. Wait for the signs God sends to you. He will never fail you! We pray God surprises you with good news and special signs of His favor! We pray good news comes to you soon! Remember, weeping may endure for a night, but joy comes in the morning. Be encouraged! It will get better!
(Everything in bold except for the subtitle is what the Holy Spirit said.)
Our June Prayer...
The Holy Spirit said to "pray for the President's meeting" on 6/12, which is scheduled for 6.12.18 which coincidentally is Ephesians 6:12-18. We pray for the meeting and that the President is not walking into a trap or is being set up. Please continue to read your Bibles.
Ephesians 6:12-18 For our struggle is not against flesh and blood, but against the rulers, against the authorities, against the powers of this dark world and against the spiritual forces of evil in the heavenly realms. Therefore put on the full armor of God, so that when the day of evil comes, you may be able to stand your ground, and after you have done everything, to stand. Stand firm then, with the belt of truth buckled around your waist, with the breastplate of righteousness in place, and with your feet fitted with the readiness that comes from the gospel of peace. In addition to all this, take up the shield of faith, with which you can extinguish all the flaming arrows of the evil one. Take the helmet of salvation and the sword of the Spirit, which is the word of God. And pray in the Spirit on all occasions with all kinds of prayers and requests. With this in mind, be alert and always keep on praying for all the LORD's people.
Father God in the name of Jesus, Lord, we praise you because you're worthy. We ask for mercy, grace, favor, and covering. We pray for our communities, families, nation, and planet. We pray for Puerto Rico, Hawaii, and Guatemala. In Puerto Rico, please have mercy on them. Give them hope and signs. Don't let them lose their vision. We pray for those attacked and oppressed. We declare peace. Remove hatred. It is written,  EVERY knee shall bow and tongue confess that Jesus Christ is Lord. Man tries to make minorities and women subservient to them, but we are all subservient to you. We rebuke demons of violence in Jesus's name. Man tries to cause fear, violence, and hate so the devil gets in. We show love, peace, and won't harden our hearts with bitterness, anger, and hatred. Let Jesus work by God's authority. We pray for areas that will have a powerful earthquake or storm. Let them evacuate in time. We speak calming over the earth. We rebuke natural disasters, Peace be still.
The Holy Spirit is also saying renew passports. Not sure if someone is traveling soon but please check to make sure your passport is valid as some areas won't let you travel if your passport is about to expire. There's something like a 3-month or 6-month rule. Check on this before you travel.
Thank you we have a hedge of protection and miracles are coming. We receive blessings out of season. Thank you Hawaii opened evacuation routes, Puerto Rico is fully restored, people in positions of authority are helping the less fortunate, and all families are restored. Thank you the person reading this has their prayers answered and needs met, Lord. The money is there. This year we shout Victory! We praise you, Lord. We cancel the devil's assignment and every demonic threat is defeated. We are covered in the blood of Jesus. The devil can't touch God's anointed. Help us win more souls for Christ, to reach lost children, and hurting families. Help us reach those contemplating suicide. I'm seeing children wearing dark makeup/masks that turned to the devil but want Jesus but feel they have no way out. Lord, send ministers in these areas to save them. Thank you for Jesus and salvation. Jesus is coming back Soon, soon. Lord you do things in a specific timing. Have your way, Lord. Have your way. It will get better. We receive victory. We ask for double-vision anointing, We give you all the glory, honor, and praise, in Jesus's name, Amen. Please read your Bibles daily.
Anything in bold above is something the Holy Spirit may have mentioned or revealed in a dream to pray about.
The Prayer of Salvation
If you haven't said the Prayer of Salvation, now's the best time: Father God in the name of Jesus, Lord, I ask forgiveness of my sins. Please come into my heart. I turn my back on sin and I make you my Lord and Savior. I want to follow you for the rest of my life. Please give me eternal life through you in Jesus name, Amen.     
Re-dedication to Christ Prayer
If you need to rededicate your life to Christ because you feel like you've been sinning or haven't been living right, pray: Father God in the name of Jesus, I ask forgiveness of my sins and I turn my back on sin. Please help me to overcome ---- and I want to lead a better life through you. I decree and declare this day I have overcome ---- and I have the victory in Jesus name, Amen. 
Stay in God's shadow, stay away from sin and temptation, keep reading your Bible and keep seeking God first. 
Be ye doers of the Word... We pray this message blesses you today!
If you need prayer, please call the Bill Winston Prayer Center at (877) 543-9443. You can also check online for Joyce Meyer's prayer request form and other sites that can pray for and with you. You are more than a conqueror!
Why You Need Bricks, Not Sand...
When you build something, does someone try to tear it down? You might need a firmer foundation. Recently I posted a testimony, but someone accused me of trying to get her to buy something. Huh? I asked her if she even read my heartfelt message. I knew it was only the devil, but apparently, she hadn't even read what I wrote. She may have seen the logo for our company and the site address, but the message was totally missed. There were no sales tactics, sale items, nothing. It was just that, a testimony. And alas, here now was the test…
I had to remind myself that people don't always see your good intentions. Sometimes people are too quick to judge, criticize and give their opinions especially online, so I sent a message back to the person sharing a whole lot of love and letting her know we're in a season to bring others to Christ with our stories and testimonies. They want to and need to see proof of God working in our lives. She just took it the wrong way. The point?
If you're using sand for your castles, you're doing it wrong!
Have you ever wondered why it seems like every time you build something, someone always has something to say or they come and knock your stuff over? Well, let's just say when attacks come, because they will come – it's in the Bible, be prepared. You have to have a firm(er) foundation…
Shh, praise is not allowed in this church!
I was at a church years ago when they had a very quiet prayer service. It was a Tuesday night at my local Catholic church and I just wanted to be near God, so when they passed the Eucharist Cross around, we prayed. Someone in the church spoke out loud and was shushed right away! I was shocked and asked the attendants after the service why this happened. A lady politely touched me on the shoulder as if I was three-years-old and needed consoling and said, "Not here, dear. Not at this service. We praise silently." I was in shock and decided to never go back, but then later, I kicked myself because while I never went back to that service, I also didn't stand up for God and quote every scripture that I know about praising God publicly! Let the Redeemed of the Lord say so! Shout out to Jesus!
Who is shushing you? Maybe it's someone on your job, at school or in your own family. You might even have someone in your church who thinks you're too loud, too wild or too "out there," but if you're an instrument of praise, it might be that you've outgrown them or God is calling you higher…
Oh yeah, well I can do that, too.
My old job was funny. I had a few enemies who tried to undermine everything I did – and it was usually juvenile things that girls do when they're in high school or diapers. I'd wear a new dress and one of my coworkers would run out right away and try to buy the exact same dress. I'd read about this with people who were insecure because if they were sisters, or the little sister in the family, they usually had to fight for a sense of independence, so I didn't take it seriously. I just wanted to understand the dynamics behind it so I knew how to respond and also how to pray for them. I didn't fight with them during these really childish moments because I knew it would distract me from God's work. Besides, I'm not here to compete. I want us all to win in Christ. That's what Sheryl Sandberg's book, Lean In is all about, helping others achieve their goals, too. But when women are catty and insecure, you really have to have a brick solid and firm foundation.
Building better castles
We all know the parable about the houses made from sand, wood and bricks. We also know the story about the 3 little pigs and the wolf and their housing debacle. There is so much significance to the elements that were used in both stories and here's why:
Sand: Sand dissipates, dissolves, is grainy and can slip through your fingers. Add water to it and it can become really nice mud, but as soon as it dries, it's tiny particles that can't stand on their own. You can add the Holy Spirit (water), but when that sandy foundation dries, it can collapse because it's missing binding elements.
Wood: Wood is great if you're roasting marshmallows over an open fire pit or looking for new teak furniture, but try building a house with wood in an area that's prone to brush fires and dry conditions. Use the wrong wood and a roof can collapse. There are also bugs that can get in through the crevices which can lead to dry rot and splintering.
Brick: Bricks are a solid substance resistant to wind, rain and corrosion, for the most part. The more bricks that are used, the stronger the foundation. The problem with bricks is it takes longer to build to wait for the foundation to settle. If you're growing your foundation firmly in Christ, it will take time, and trials and testimonies.
That brings us to an interesting point? What do you do in the interim?
Your mouth, your thoughts and your actions…
In building that brick firm foundation, here's where it will take time on your part. You may want to think about areas where you feel the most vulnerable or exposed around people like that house in the elements. Is it your mouth? Do you have a problem with your reaction? If you find that you can't stop telling people off, then yes, your mouth might need a little work. And that's okay. God takes us as we are and then He molds us and shapes us. Just don't tell off the usher board or any of the deacons while you're growing.
Whatever you feed grows…
Bishop Bronner had a great message on about your triggers and being careful as to not fall back into past mistakes. Sometimes we can be around the wrong person and they can try to set us off or you can be under so much stress that if someone doesn't receive you warmly it really hurts deeper than it should and your defenses are down. So there needs to be a balance of a wall to protect you and a guard over your mouth to watch what's being said.
See the rest of the message here...

Jesus is the Way. So often we face the world with uncertainty but we have a loving Father God who says, "Fear not" and "I am the way, the Truth, and the Life." Let God lead the way for you. Watch this awesome version of The Way by Pat Barrett here...
Want inspiring Father's Day gift ideas? For the Best Father's Day gifts and inspiring men's gift ideas that give back, we've come up with the best ways to celebrate dads and men for Father's Day. Click here...
Need a Word? Robert Clancy's Deliverance Prayer from Strongmen in Grouping
 Ask God about the deliverance prayer you need. Sometimes it might be from past relationships, from those that want to keep you oppressed and from those that try to keep you under the spirit of oppression. Hear this awesome prayer. You are stronger than you know. God calls you the head, lender, and above, fearfully, and wonderfully made. Come out from among them.
News: Troops who served with fallen soldier hold his newborn baby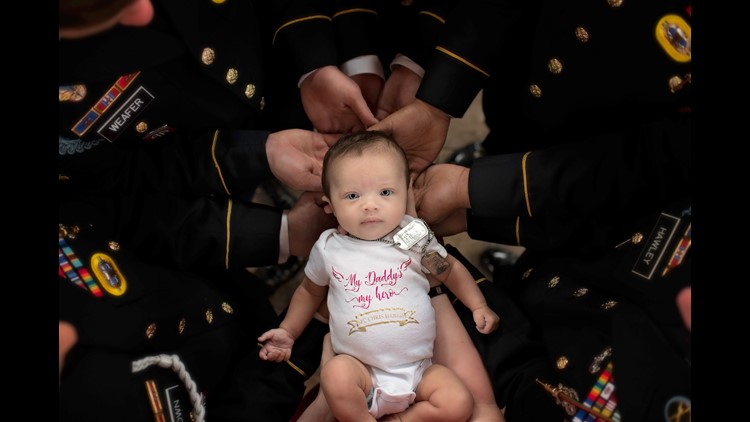 Story Shared Courtesy USA Today: Newborn Christian Michelle Harris is surrounded by men who served in Afghanistan with her fallen father, Army Spc. Chris Harris. This May 29, photo was taken at the Cape Fear Botanical Gardens. The photos, a tribute to fallen U.S. Army Spc. Chris Harris, show his newborn daughter, Christian Michelle Harris, surrounded by members of the 82nd Airborne Division who served with her father.
Chris Harris was killed in a suicide bombing just a week after he learned his wife, Britt Harris, was pregnant. Those who served with Chris arrived home on the same day that his daughter was born: March 17, St. Patrick's Day.
Britt said she will show her daughter the photos one day so Christian can have a connection to those who served with her father. Some of those pictured survived the attack that claimed Chris' life. "They've been a part of her life before she was even born and I know they're going to be around for the rest of her life," she told USA TODAY. "No matter where the army takes them all I will be able to show Christian how they all came together for her."
Kendra Phillips of Pinehurst Photography told USA TODAY she took the photos on Tuesday at the Cape Fear Botanical Gardens. It was a moving experience, she said. She said she promised Britt to help her tell Chris' story to the world, to honor his memory. "He was an American hero," Philips said: He fought and died for our freedoms. She remembers envisioning the image she wanted to capture — of baby Christian surrounded by the supporting hands of those who served with her father.
When the time came to take the photo, the child's eyes startled Philips. Christian had the "striking blue eyes" of her father, Philips said. The 10-week-old infant was wearing a shirt that said "My daddy's my hero."
News: Pizza delivery man facing deportation draws stay, support of leaders
Gov. Andrew Cuomo joined the chorus of New York officials calling for the release of an Ecuadorian native detained while delivering pizza at a Brooklyn Army base after his impending deportation was halted, at least for now, by a federal judge.
"There's compelling evidence that Pablo Villavicencio was improperly detained," Cuomo said late Saturday. "He should be immediately released from ICE custody and an investigation should be launched into the circumstances of his arrest."
Villavicencio, 35, was taken into custody June 1 at Army Garrison Fort Hamilton after military police officers conducting a routine check discovered a deportation order from 2010. He was turned over to Immigration and Customs Enforcement and is being held at an ICE facility in New Jersey. New York's Legal Aid Society said it sought an emergency stay after learning Villavicencio's deportation was imminent. Federal Judge Alison Nathan issued an emergency deportation stay pending a hearing July 20. Villavicencio's wife, Sandra Chica, and his two children are American citizens.
"I'm grateful to hear that #PabloVillavicencio has won an emergency petition that keeps him in our country," Brooklyn Borough President Eric Adams tweeted. "He belongs at home, with his wife and children." Sen. Kirsten Gillibrand, D-N.Y., said the case was an example of the Trump administration's "inhumane" immigration enforcement policy. "It is completely shameful for ICE to separate a father from his wife and kids like this," she said.
Villavicencio's lawyers argue that he is the family's primary provider, that he was in the process of applying for permanent legal resident status when he was detained, and that he was a victim of racial profiling. Although we are disappointed that Pablo will remain detained, today's stay is a victory for him and his family, and also for due process and the fair administration of justice," Legal Aid Society lawyer Gregory Copeland said.
LOL: No One Puts Baby in a Corner
Check out this adorable little girl dancing across the stage as she graduates! It's just another reminder, it will get better. God is in control!
To get our full Free Monthly Newsletter, please use the email sign-up below.