What is Truth Social? How to Download the Trump App
February 09 2022
Ready to follow the Truth? President Trump's new media company is up and running in the Apple store.
Here are Truth Social FAQ:
What is Donald Trump's new social media platform?
Available for iOS users in the Apple app store, Trump's new platform Truth Social is the #1 free download in the app store It is a credible alternative to fake and censured social media.
What is Trump's Truth Social?
February 21, 2022, Trump Truth social media app debuts. It's President Trump's promised social media app for the American people who want to share Trump news. With Twitter ban and Facebook ban against Trump, the President now has his own platform. 
What is the truth social app?
Truth Social is free from political discrimination. The website states it is for the American people to "encourage open, free, and honest global conversations without discriminating against political ideology." 
How to access Trump Truth Social?
In the Apple store, type in Truth Social. Select the option to download Truth Social app. Enter your email address and date of birth (to confirm you are over age 12). When you receive your email verification code, use it to log into the site. 
Here are Truth Social Facts
TRUTH Social will start with a limited launch initially. 

TRUTH Social has an estimated value of $1.7 Billion.

Donald Trump, Jr. says about TRUTH Social, "We're Going to Cancel Cancel Culture."

Reaction to TRUTH Social is positive. TRUTH Social ranks #1 in the free Apple downloads. 

TRUTH Social will go public via a SPAC deal.
About Truth Social App
Compatibility: Truth Social is compatible with iPhone and iPod touch. At 12.4MB, it requires iOS 13.0 or later.
About Truth Social
 As a way to get our voice out, Truth Social may partner with Rumble.  
"I'd like to say the first quarter of this year coming up. We think we'll be in great shape, and you know, it's moving along very well, and we think we're going to be in great shape."
"It is going to be, very simply, a way of getting our voice out to a lot of people. And when we get our voice out, there are a lot of people that want to hear this voice, because they don't hear it." He also noted that the media "certainly is not a free press.
"It's very corrupt, and we have to be able to get our voice out and this will be a way of getting our voice out loud and clear. I truly believe we have far more than 50% of the public of the people of this country—much more than 50%. This is a way of getting a strong word out from a lot of different people who should be heard."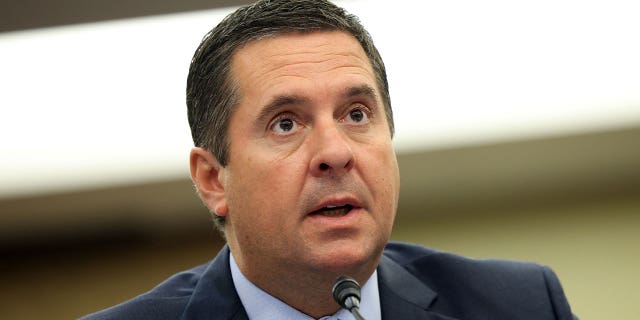 Devin Nunes to Join Company as CEO
Trump Media & Technology Group (TMTG) announced that Representative Devin Nunes, R-Calif., would resign from Congress and become the company's chief executive officer.
"Devin's been a fantastic leader. He also understands big tech, and small tech, and he is very, very much involved in that, which is an ability in itself, and I think he's going to do a fantastic job. He also loves our country, and he wants to get another voice out there—obviously not just for the radical left, so this is a very big thing. It is far more important than money. This is a very big thing that we're doing."
"As part of our mission, TMTG continues to align with service providers who do not discriminate against political ideology." Rumble's Cloud will serve "as a critical backbone for TMTG infrastructure. TMTG has already launched Truth Social on the Rumble Cloud for invited guests only, and the initial Beta launch has been excellent. America is ready for TRUTH Social, and the end to cancel culture." 
Rumble will provide streaming and video services for Truth Social as part of their agreement. This comes after Rumble announced it would go public, a potential $2.1 billion valuation.
While President Trump started a communications platform, "From the Desk of Donald J. Trump," at www.DonaldJTrump.com/desk, the temporary platform is somewhat dormant. Trump's current message with supporters and the media are by way of press releases from 45office.com.
In discussing the uptick in retail crimes, Trump said law enforcement needs our support.
"We have to give the police and law enforcement their authority back. We have to give them their strength back, so that they can stop—they can solve this problem very easily. If they stop it now, and if they stop it strongly as they can, they don't want to lose their pension, they don't want to, you know, have their families be destroyed. We have to give back their authority and their strength to our Police Department as opposed to 'defund the police.' What you read about is defund the police. We can't allow that to happen. If we give them back their respect and their strength, we will see that end very quickly."
Truth Social and Removing Bad Actors 
When TRUTH Social launches sometime this quarter, it will include stringent content moderation practices. The goal is to keep it "family-friendly" in the online community. They anticipate that bad actors might target the site to try and hijack it, hack it, and flood it with illegal content. 
TMTG partnered with Hive, a Series D start-up based in San Francisco that offers automated cloud and AI solutions. It also includes automated content moderation across images, video, audio, and text. A step Nunes stressed is important in a Fox interview.
"We want to be very family-friendly; we want this to be a very safe place, and we are focused on making sure any illegal content is not on the site. Hive has a great track record in this, and they have been good to work with. They are very helpful for our team and because of their experience, I think they're helping to craft the right spot for us. We want to be the most family-friendly site."
Hive CEO and co-founder Kevin Guo said that the content moderation features will help block violence, sexually explicit material, bullying, hate speech, and spam. They were also an integral part of the development with Parler, and have worked with Tango, Yubo, OnlyFans, Yik Yak, Reddit, Johsn, IRL, Giphy, and others.
"TMTG really has been proactive. For them, moderation has always been core. They have been very thoughtful about this. Our stance, unlike other companies, we, by definition, are doing a net positive. I don't care who you are, if you want to make your community a safer place, you should be given the tools to do so."
"We commit ourselves to being a very neutral ground. If a partner wants to use us, and we think they are doing a good job, using our models well, and putting in good-faith moderation, we're going to keep supporting them, no matter what the external pressures may be." 
About TRUTH Social's platform he said, "They are not doing things like trying to censor any political talk—we don't have models for that or models for misinformation. We focus on a problem that is more objective."
And, Nunes supports this, citing those topics can be "open for all ideas, all political debate from the left to the right. We're not going to censor anybody because they have a different opinion about, for example, a COVID vaccine. That is what the open internet is all about—it should be for the free flow of debate and ideas all over the globe, so that people can learn from one another and debate with one another. And society should be better for it if it is working properly."
The Problem with Censuring and Section 230
Content moderation is under severe scrutiny especially on the right as tech giants are benefitting from protections in Section 230 of the Communications Decency Act. It lets them censor conservative viewpoints and social media giants like Google, Facebook, Twitter, YouTube, and others are shielded from liability.
Section 230 states that "no provider or user of an interactive computer service shall be treated as the publisher or speaker of any information provided by another information content provider."
Nunes describes Section 230 like this. "It is the law of the land. Clearly, in the past, I'd express my frustration with it—mainly, at what point does a website or a tech company become a publisher?" And he criticized these tech giants for "selectively enforcing their terms of service."
"The bottom line is that any changes that would be made to Section 230 in the future, we're not at all worried about because we're not going to be in that kind of business."
TRUTH Social's content moderation is "all about protecting the customer and the user. We want people to have a good experience on the platform, and they are not going to have a good experience if there is illegal activity on the platform, so that is the real necessity for this. We're eyes wide-opened here."
TRUTH Social, while not yet publicly available, is in the pre-order stage through the Apple App Store.  
THEY'RE Trying to Censure God, But When God Moves It Will Be a Terrible Time for Some
God teaches us in Psalm 31:8 and 15 to pray "Lord, remove me from the hands of my enemies." The problem with censuring is the mark of the beast, demonic and witchcraft are behind the scenes.
Ephesians 6:12 explains that these are "principalities, powers, rulers of the darkness of this world, spiritual wickedness in high places." And they're working on the highest levels to cover up criminal activity, election fraud, payoffs, blood and animal sacrifices, pedophilia, and child sex trafficking. They're also trying to block what God said through His prophets and pastors as God is using President Trump like Jehu to expose Jezebel. However, their futile social media, strikes, bans, and censuring cannot and will NEVER stop our God.
Regardless of what they SAY or DO, God said and continues to say, "It doesn't matter." They CANNOT stop God from coming soon to expose and remove all their e-vulllllllllll!
Keep resting in God, bed by 9:30 pm/1:00 am at the latest, up early praying and singing to God. And, read your Bible MORE. Don't see it like "If" God moves. No, God has ALREADY moved because He's spoken it so hold onto Him.
Hear the rumblings in the earth. Get ready for God's earthquakes which are coming soon. THEY will be saying 'Not fair, not fair' when they see what God does. Note the billions of dollars they've ALREADY lost and will continue to lose.
God's Storm is Coming (Wrath/Judgment Against His Enenies), i.e., God's Tornado
Isaiah 57:13 "When thou criest, let thy companies deliver thee; but the wind shall carry them all away; vanity shall take them: but he that putteth his trust in Me shall possess the land, and shall inherit My holy mountain."
Job 27:19-22 "The rich man shall lie down, but he shall not be gathered: he openeth his eyes, and he is not. Terrors take hold on him as waters, a tempest stealeth him away in the night. The east wind carrieth him away, and he departeth: and as a storm hurleth him out of his place. For God shall cast upon him, and not spare: he would fain flee out of his hand."
Jeremiah 23:16-22 (about false prophets trying to distort God's Words) "Thus saith the Lord of hosts, Hearken not unto the words of the prophets that prophesy unto you: they make you vain: they speak a vision of their own heart, and not out of the mouth of the Lord. They say still unto them that despise Me, The Lord hath said, Ye shall have peace; and they say unto every one that walketh after the imagination of his own heart, No evil shall come upon you. For who hath stood in the counsel of the Lord, and hath perceived and heard His word? who hath marked His word, and heard it? Behold, a whirlwind of the Lord is gone forth in fury, even a grievous whirlwind: it shall fall grievously upon the head of the wicked. The anger of the Lord shall not return, until He have executed, and till He have performed the thoughts of His heart: in the latter days ye shall consider it perfectly. I have not sent these prophets, yet they ran: I have not spoken to them, yet they prophesied. But if they had stood in My counsel, and had caused My people to hear My words, then they should have turned them from their evil way, and from the evil of their doings."
Commentary on that last passage: 
"He is talking about a tornado that He has sent—a violent windstorm. The false prophets have said, "No bad is coming" (verse 17). God says, "Do they ever listen to Me? I've said, 'I'm sending a whirlwind, and it's going to fall on the heads of the wicked.' How dare they say that everything is going to be okay!" Richard T. Ritenbaugh
A reminder to keep reading our Bibles MORE and keep coming out from among them, from among him, from among her, those that represent Jezebel.
Pastor Timothy Dixon summed it up when he shared a vision months ago. He saw two armies facing each other, one was God's army, and the other was the devil's. God suddenly blew His winds and God's armies were strengthened while the enemies was weakened. And God confirmed this THROUGH us when HE said, "God's storm is coming." He also said "Put the witches and demons in God's tornado" so remember to say that when you pray. Flag on THEIR play. Stay tuned!
Hive co-founder and CEO Kevin Guo told Fox Business that his company's AI model will be used for TRUTH Social to offer content moderation for posts to ensure sexually-explicit content, and posts that include violence, bullying, hate speech, and spam never make it to the platform.
"TMTG really has been proactive," Guo told Fox Business. "For them, moderation has always been core. They have been very thoughtful about this."
Hive was integral in helping conservative social media platform Parler to develop their content moderation practices in order to be reinstated into Apple's App Store following the Capitol riot on Jan. 6, 2021.
Hive also has dozens of other clients, including Reddit, Giphy, Yik Yak, OnlyFans, Omegle, Josh, IRL, Yubo, Tango, and more.
"Our stance, unlike other companies, we, by definition, are doing a net positive," Guo said. "I don't care who you are, if you want to make your community a safer place, you should be given the tools to do so."
When asked about working with clients that some deem controversial, Guo said that there "are a few things where we should probably put aside our differences and just agree that we need to solve this problem."
"We commit ourselves to being a very neutral ground in that sense," Guo said "If a partner wants to use us, and we think they are doing a good job, using our models well, and putting in good-faith moderation, we're going to keep supporting them, no matter what the external pressures may be."